BREAKING NEWS ON VOTER FRAUD
Chairman Ed Naile and Co. catches Democrat Philly Lawyer Jared Cram
voting twice in not one, but TWO NH elections. A lawsuit is planned.
FOR ALL GIRARD AT LARGE STORIES ON THE DOUBLE VOTING OF JARED STEVEN CRAM, CLICK HERE.
Here is what the voting record of a domiciled Philadelphia lawyer, who votes in NH as well, looks like.
From CNHT.org
Audio from this morning's special edition of "A Question of Voter Fraud" on the Girard at Large radio show.
CNHT has been providing workshops about voter fraud in New Hampshire for years and it pays off only because of local citizen involvement.
The recent catch of Philadelphia lawyer, Jared S. Cram, who voted in NH and Pa. in 2012 and 2008 was due to a person in Wilton, NH who was aware of our efforts. It was one of several leads from that small town.
At The Coalition of NH Taxpayers we do not gather and compare database information to catch out of state voters. We depend on citizens who have knowledge about their municipality and who want their vote to count and not be watered down by drive-by voters who infest our checklists.
This is where you, as a legal, domiciled, resident of our state come in. We are coming into a critical time in New Hampshire elections where a small number of votes can change even the US Senate.
Please attend a CNHT Voter Fraud Workshop and become involved if only to understand what has happened to our election laws.
You can hold a voter fraud workshop in your town or have one presented to your interested group. If citizens of New Hampshire do not take action on their own thousands of drive-by voters will water down your vote and linger on our checklists for years.
That is not how things should be done in our state. You can make a big difference in a small way.
FOR ALL GIRARD AT LARGE STORIES ON THE DOUBLE VOTING OF JARED STEVEN CRAM, CLICK HERE.
By CNHT | October 9, 2014
Philadelphia resident, long time registered Pa. voter, Pa. attorney and marriage equality activist, Jared S. Cram, voted in NH in 2012 in the General and Primary out of Wilton as well as Ward 58 in Philadelphia where he lives at: Apt. G73, 450 W. Bayberry Rd. Phila. Pa. 19116.
Pretentious Gas Bag, Jared S. Cram, Thanks New Hampshire Voters – After Stealing Their Vote
He just couldn't help himself now could he?
Jared S. Cram, a low-life lawyer from Philadelphia comes to New Hampshire to campaign, like hundreds of other leftist activists, with this big difference – he wrote about it, thanking us in the process:
http://www.dailykos.com/story/2012/11/08/1158886/-I-Stood-in-New-Hampshire
The smarmy article by this self described science fiction writer should be titled "I Stole Several Votes In New Hampshire". (This Philadelphian voted here in NH twice in 2012 and once in 2008.)
Here is the punch line to this joke:

"You know the rest of the story. President Obama, Governor Maggie Hassan, Representatives Kuster and Shea-Porter, and even Kermit Williams and Steve Spratt. The Democrats swept all the seats in Lyndeborough and Wilton (with Frank Edelblut coming in dead last). I stood in New Hampshire. I didn't just stand in the cold and the wind. I stood for equality. I stood for justice. I stood because I am my brother's keeper and I expect he will be mine. I stood because women are equal to men and deserve the right to control their health and their bodies. I stood in New Hampshire and to everyone who stood all across the country and in all the different ways you could, I only have this to say. Thank you."
Oh how brave.
But we who are domiciled in NH and have been involved in several campaigns have met creatures like Jared S. Cram many times. They are always smarter than everyone else, trucked in from out of state, adorned with some college degree that hasn't garnered them a job except in campaigns for leftist candidates. And they squander their time in internet chat rooms in between campaigns bragging about issues they have no real life experience about.
At this Jared S. Cram excelled. He has hundreds of pages of comments posted on the Internet for everyone to read in the new, bright light of his double voting for equality.
And for that I say THANKS Jared S. Cram.
Also from CNHT.org:  
---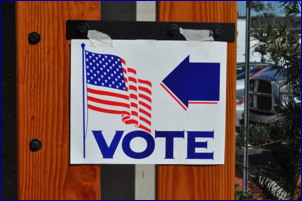 FOR ALL GIRARD AT LARGE STORIES ON THE DOUBLE VOTING OF JARED STEVEN CRAM, CLICK HERE.