(Hours 2a,b)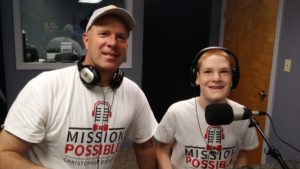 Rich spoke to Christopher Duffley and his father Stephen of Mission Possible. Christopher spoke about the mission of the podcast and told about the guests who have visited.
(Hour 2b) Christopher spoke about the naming of his podcast.  Rich took a call from Mike Lopez, who was at Sweeny Park for the honoring of deceased veteran Henry J Sweeny.  He then heard a LIVE performance of Thank You Soldier from Christopher and he played the Halsville School's rendition as well.  Finally, he shared a biographical reading of Henry J Sweeny.
Click here and here for more information about Mission Possible.