The N H Department of Transportation, in accordance with state and federal law, has set a public hearing to discuss the proposed reconstruction of the of 28 By-Pass, Scobie Pond, and English Range roads intersection. The meeting will be held at the Derry Municipal Center, on Dec 5th at 7:00 pm.  The Municipal Center will open an hour in advance of the meeting so members of the public can gather, inspect the proposed plan or otherwise get settled before the meeting.
The town of Derry has also released what they're calling an Addiction Recovery Service Locator, which pinpoints service providers in and around the town of Derry.  In all, they've identified five residential, fifteen outpatient recovery and eighteen peer recovery service providers to help folks find the help they may need to battle addiction.  We've linked to the map, which includes all facility contact information, from this news read at Girard at Large dot com.
Officers from the Manchester Police Department hit something of a jackpot after a motor vehicle stop.  Officer Adam Terrizzi pulled over a Ford S U V at about one thirty on Wednesday morning on Amherst St. after the driver failed to use the turn signal.  He ultimately arrested the driver and all three passengers.
The driver, twenty year old Alexis Riemer of Central Street, was arrested for operating after suspension, operating with a suspended license and possession of heroin, which the officer found in her purse after gaining permission to search the vehicle.
Thirty six year old Terrance Cannon, of Brookline, MA was arrested and charged with possession of a controlled drug, after officers located a single suboxone strip on his person.
Twenty five year old Kemani Lacey, of W. Brook Street, was arrested on an outstanding electronic bench warrant.  Police did not identify the charges associated with the warrant.
And, finally, Thirty year old Ashley Bradicich, of Orange Street in Manchester, was charged with possession for having cocaine and Oxycodone pills inside of her purse.
They were all released on personal recognizance bail and scheduled to be in court at the end of December.
News from our own backyard continues after this.
Quote:
We, sir — we are the diverse America who are alarmed and anxious that your new administration will not protect us, our planet, our children, our parents, or defend us and uphold our inalienable rights.  We truly hope that this show has inspired you to uphold our American values and to work on behalf of all of us.
That's part of what Brandon Victor Davis, the black actor who plays Alexander Hamilton in the Broadway musical Hamilton, said to Vice-President Elect Mike Pence from the stage about two weeks ago as Pence was leaving following the performance.  In doing so, he brought tremendous scrutiny on himself and the play which, in retrospect, he may have been wise to have considered before launching his invective.
The production, which has been praised for its casting of black and Latino performers as the nation's Founding Fathers, is likely to have violated anti-discrimination laws in New York and other states where it has advertised auditions for non-white actors only, except for the role of King George of England, who is an obvious oppressor and villain.  The production defends their non-white casting call saying quote:  "it is essential to the storytelling of 'Hamilton' that the principal roles, which were written for nonwhite characters (excepting King George), be performed by nonwhite actors."
Investigation of Davis himself has turned a litany of social media posts which show him to be anti-Christian, anti-White, anti-police and, simply, one angry dude.  In one tweet, he says quote:

In another tweet around Halloween, he chides quote: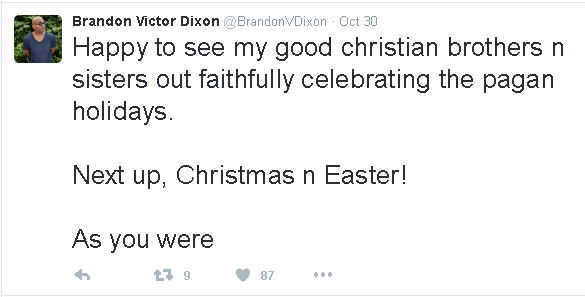 In a tweet about police he writes, quote

In an Instagram post about police endorsements of Donald Trump, quote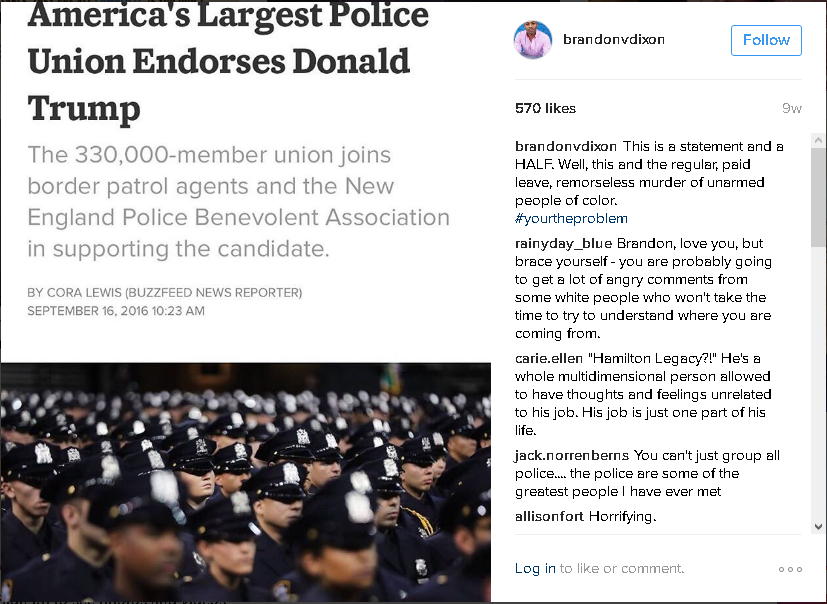 And then, there are these about race and payback posted on Twitter quote:
"That's NEWS from our own backyard!  Girard at Large hour ___ is next.