Seems that Governor Chris Sununu has upset the mayor of Lawrence, MA. In recent comments, Sununu fingered Lawrence as the primary source of the fentanyl that's flooded the state. He asserted the state was quote "coming in" to put a stop to it. He also took aim at Lawrence's status as a sanctuary city, saying that judges had been lenient and law enforcement lacking on drug issues because of it.
Lawrence Mayor Dan Rivera complained that Sununu's comments were threatening, proffering the idea that Sununu intended some sort of invasion of the city that would violated the Bay State's sovereignty. He disputed Sununu's claim that Lawrence was the source of the drug trade and said that while Lawrence was, in fact, officially, a sanctuary city, it wasn't soft on crime. As proof, Rivera said the city had turned over five illegal aliens that have committed crime to federal authorities since August…of two thousand fifteen.
In a statement issued yesterday over the flap, Sununu said he'd spoken with Rivera and was encouraged by the conversation. He said he's invited him to help develop a plan that will find solutions to the drug problem in both communities.
A whole five people. Wow. The criminals must be quaking in their boots in Lawrence, huh?
Cornerstone Action is taking aim at critics who say they're just making up stuff to stop House Bill 4 7 8, the Bathroom Bill. Cornerstone has not only warned that the legislation would not only make restrooms across the state vulnerable to sexual predators by preventing restrictions on who could use what bathroom, but also warned it would endanger religious freedom.
Answering critics who say there aren't any examples of sexual orientation or gender identity bills endangering religious freedom, Cornerstone disseminated several examples, including from:
We, of course, have chronicled stories where the danger to women has been clear, including what happened at Target in Bedford, where a male accessed the women's bathroom under the company's open bathroom policy and set up cameras to spy on women in the stalls and in Seattle, Washington where an adult male accessed a women's locker room at a public pool and disrobed in front of a swim team of young teenage girls under another open bathroom policy. The women coaches were told that the male could not be removed from the women's locker room because he had a right to be there under the policy.
The bill is up for a vote next week. They're urging folks to contact their reps. to oppose the bill. You can bet the other side is hammering away at them.
News from our own backyard continues after this.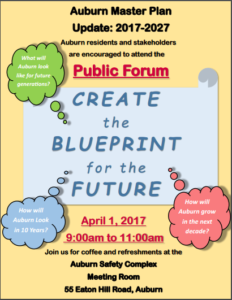 As part of the town of Auburn's Master Plan update, the its Planning Board will be hosting a visioning forum for residents to express their thoughts about what the town should look like in the next decade. The forum is open to the public and is intended to solicit opinions from local residents that will help the Planning Board create the blueprint for the future of the town. It will be held in the Community Room at the Auburn Public Safety Complex on Saturday, April 1st from 9 am to 11 am.
That's the day, by the way, in case you've forgotten, that the Manchester Police Department will be holding a entry level police exam.
Anyway, coffee and refreshments will be served.
Londonderry author Bill Graser will be at Gibson's Bookstore at forty five South Main Street in Concord tomorrow. Starting at two, he'll be signing copies of his book Veterans' Reflections: History Preserved. Admission is free. Graser, a retired Army Sergeant First Class interviewed dozens of veterans who served during World War II, the Cold War, Korea, Vietnam and operations Desert Storm and Enduring Freedom to write the book, which provides firsthand accounts of their service, which reflects the service of millions whose stories will never be told. We interviewed Graser about the book when it first came out and have linked to that archive from this news read for your convenience. If you want to honor those who served, get the book, know their stories, visit with Bill tomorrow!
That's NEWS from our own backyard! Girad at Large hour ___ is next