Manchester's Safe Station initiative has always drawn these kinds of numbers of people from out of the city. This is nothing new. What is concerning, however, is that it appears as if the state's program might actually be referring people to the city. If true, be assured that this too, would be nothing new. Communities across the state have always sent their "problems" to Manchester, whether they be homeless, on welfare or in need of special education. The state, itself, is guilty of this, too. Take for example the "statewide" refugee resettlement program that drops about 90% of all refugees the state gets in the Queen City. That said, if the state's Doorway program is adding to that, then it needs to be dealt with.
Former Mayor Ted Gatsas​ once floated the idea of billing the communities whose residents come through Safe Station on the Girard at Large Radio Show. He was, of course, condemned by some for it, including a certain political rival who is, in an election year, demanding the state do more to help the city cope with this problem, while continuing to brag about improvements to Safe Station that make it more user friendly. In other words, on the one hand, Mayor Joyce Craig is praising improvements to magnet that is Safe Station, and on the other, she's complaining that the magnet is doing a better job attracting the very people that have overwhelmed the city in a very negative way.
The magnet that is Safe Station needs to be reevaluated. When the Governor Chris Sununu​ announced the Doorway NH program, Craig​ was adamant that Safe Station should remain and not be absorbed into the state's program. Maybe that was a mistake. Maybe it wasn't. But the time has come to evaluate exactly what Safe Station is bringing into the city of Manchester. It's also time for both the city and the state to look at ordinances and laws. State law should not prevent police from arresting people at the scene of an overdose who are engaged in criminal activity. It's encouraging people to engage in illicit drug activity knowing they can't get arrested when they call for help with an overdose. State law should not prevent someone who has ingested drugs from being arrested for having ingested them. If it's a crime to possess it, it should also be a crime to use it. State law should not be the functional equivalent of "catch and release" by letting let people go right back on the street after they're arrested because the can't "afford" bail. We can't afford to have them back on the street committing the very same crimes they were arrested for!
At a recent meeting of the Board of Mayor and Aldermen, Mayor Craig made quite a show of how tough she was being on the vagrant invasion of the city. Part of that show was releasing a letter sent just days before to the governor, criticizing him for a variety of things and laying the increase in the "out of city" visitor problem squarely at the feet of the state. She also asked the board to refer several matters, including the question of Safe Station's future, to a committee. Nothing says "action" like a referral to committee! Yeah, she did ask the board to direct the city solicitor to draft language regarding "camping" in city parks. But, should she not have already asked the solicitor for that language? Ward 12 Alderman Keith Hirschmann, by the way, has spent more than too much time trying to get a change to that ordinance, striking the word "overnight" so it applied around the clock. It finally happened thanks to Craig's "blitzkrieg" on the issue.
Most people have heard the saying about Emperor Nero and how he fiddled while Rome burned. What most people don't know is that Nero actually set the city on fire. Now, I'm not saying that Mayor Craig is responsible for the vagrant invasion of the city, it is clear that she's not taken swift and serious action to address it. To the contrary, she's not only "fiddled," she's actively opposed proposals like the one put forward by Ward 3 Alderman Tim Baines that would have given downtown property owners year round control over the sidewalks adjacent to their buildings instead of from just April until October. She was worried that the ACLU would sue.
When the ACLU threatened to sue Manchester after Mayor Gatsas moved aggressively to reestablish Bronstein Park (again a trouble spot) as a Central High School facility so the city could toss any member of the public out of the park during school hours, he basically said: "Go ahead. Make my day!" (Apologies to Dirty Harry!) Which reminds me, when the SPICE epidemic hit the city, Gatsas was criticized for being too aggressive in his attempts to bring it to an end. I don't remember if Craig, then an alderman, was among the critics but clearly, we'd be better served if she were similarly aggressive.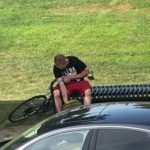 Every city official would do well to remember a couple of things. The city, as a government, has an absolute interest in protecting the health, safety, welfare and rights of all its citizens. Nobody has a right to sleep on, litter, defile or disrupt a sidewalk, park, median or other public place. Every citizen has the right to the "quite enjoyment" of public facilities. More importantly, every property and business owner has the right to the quiet enjoyment of their personal property. Vagrants are a threat to that right. They diminish business volume, property values, the public's health and right to safe, non-threatening, non-harassing passage from one place to the next. Moreover, vagrants suffering from mental illness or drug use quite literally aren't in their right mind and, therefore, have no capacity to exercise their rights. By definition, there must be public intervention not just to protect the public and private property, but also to protect them from themselves.
Manchester and New Hampshire, together, have enabled this vagrant invasion and all that it brings with it. It's time to recognize what's brought it about and do something else.
Below, please find recent news articles that prompted this post. We welcome your comments about and your assistance with sharing this post. Thank you! ~Publius
https://www.unionleader.com/news/politics/local/governor-s-press-release-on-drug-initiative-frustrates-manchester-officials/article_0f84589c-80a7-5974-b4af-650037ec1185.html
https://www.unionleader.com/news/health/safe-station-numbers-still-rising/article_ee6abfac-e9fd-5bbe-8cdf-6e1f81c93bfb.html
https://www.unionleader.com/news/politics/local/governor-s-press-release-on-drug-initiative-frustrates-manchester-officials/article_0f84589c-80a7-5974-b4af-650037ec1185.html
https://www.unionleader.com/news/health/mayor-asks-aldermen-for-changes-to-address-addiction-homelessness-in/article_4584d4a2-258d-5930-a46e-306f3baa9e25.html