Peter Gagnon, Souhegan High School's Dean of Students is the Dean of Students no more. Gagnon recently resigned from the post after being put on paid administrative leave in late April after being arrested by police at the Ten's Show Club, a strip joint in Salisbury, MA. Police were called to the club to remove Gagnon who refused to leave after exhibiting erratic behavior, including nosing in on private dances and walking in and out of the women's restrooms. (Who knows, maybe he was in the process of exploring his gender identification.)
Anyway, when police arrived, the evidently intoxicated Gagnon refused to cooperate, offering the officers who offered him a ride home a healthy dose of verbal abuse. He also had to be restrained after getting physical with the responding officers. Police warned that if he didn't stop resisting and enter their cruiser, they would deploy their stun guns. He basically said "go ahead, make my day." They did and away he went.
Gagnon's replacement is expected to be presented to the S A U 15 School Board next month. Charges of disorderly conduct, trespassing and resisting arrest are still pending in Newburyport District Court.
The New Hampshire State Police is asking for the public's help to identify and apprehend two women who stole nearly a thousand dollars worth of booze from the state liquor store on I 9 3 North in Hooksett yesterday and the day before. Security cameras captured images of each woman and we've got them with this news read at Girard at Large dot com. According to a release issued yesterday, police believe one of the subjects may be driving a gray Honda Accord with N H plate number 3 5 0 8 5 4 0. Anyone with information is asked to contact Trooper First Class DeLuca at 2 7 1 1 1 6 2.
The Manchester School District is hosting two events to encourage parents with children that will be new to the school system to register early. The first event will be at the Beech Street Elementary School on Wednesday, August 9th from 8:00 to Noon and from two to four. The second will be at Gossler Park Elementary School on Thursday, August 10th from 9:00 to-1:00 and 3:00 -6:00. Officials stress that the registration event is open to all children that will attend any school in Manchester. No appointment is necessary.
Parents are encouraged to obtain the required enrollment forms from the district's Web site. We've got the link. Filling them out before arriving at the school would be helpful, too. In addition to the form, parents or guardians must bring something that proves the child's age, such as a birth certificate, passport, signed affidavit or other government issued document, two proofs of residence, such as a utility bill or rental agreement, immunization records, records from their last physical exam and the child's last report card.
News from our own backyard continues after this.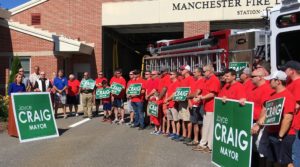 The unions representing Manchester's firefighters and fire supervisors have endorsed former Ward One Alderman Joyce Craig's bid to become the Queen City's next mayor. What a surprise. In a political event staged on Wednesday on the grounds of Station Eight on East Industrial Park Drive, flocks of firefighters posed for photos with Craig against a backdrop of fire trucks adorned with Caring for Mayor signs.
District Chief James Michael, President of the Manchester Association of Fire Supervisors I A F F Local 3 8 2 0 said Manchester was in desperate need for a new vision for the city and it's fire department. Michael criticized incumbent Mayor Ted Gatsas for reductions in staffing while demands for service were rising. He said quote:
"we need a change and it must originate from the top."
Manchester Professional Fire Fighters Association Local 8 5 6 President Jeff Duval similarly criticized Gatsas saying, quote:
"As a lifelong resident of our city, I can say that smoke and mirrors does not result in a clear vision for our community."
Apparently, Gatsas not having the vision to see his way clear to supporting their whopping pay raise is at issue here.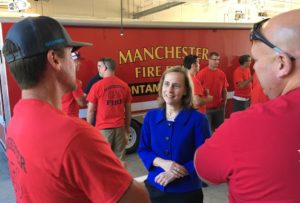 For her part, Craig was honored to have their support.
Fire Chief Dan Goonan has not responded to our inquiry regarding whether or not city fire stations and trucks are allowed to be used for political events and endorsements. Sources familiar with the department told Girard at Large that such usage is, quote:
"Simply wrong. They're not supposed to do that."
Changes to the standardized testing regime in the Manchester School District are on the way. At last Monday's meeting of the Committee on Curriculum and Instruction, Superintendent Dr. Bolgen Vargas unveiled a new standardized testing scheme that will be applied to all Queen City schools. Currently, the district has no one standardized test used in its schools, making it difficult to understand how each school is performing in general or in relation ot one another. In identifying one standardized test that will be universally used, Vargas said that several assessments will be done away with. The committee will review final details at its meeting on August ninth and forward its recommendations to the Board of School Committee for its meeting on August fourteenth.
That's NEWS from our own backyard! Girard at Large hour ___ is next!
[soundcloud url="https://api.soundcloud.com/tracks/335220700″ params="auto_play=false&hide_related=false&show_comments=true&show_user=true&show_reposts=false&visual=true" width="100%" height="450″ iframe="true" /]