Saying he is, quote "grounded in the people and places of New Hampshire," District Four Executive Councilor Christopher Pappas, Democrat from Manchester, announced he will be a candidate for Congress in the First District. In a Facebook post that went up yesterday afternoon, Pappas said Washington Republicans weren't addressing the needs of the middle-class and that he wanted to be part of a new generation of leadership to turn things around.
On the "About Chris" page on the Web site published in conjunction with the announcement, Pappas is praised for his work as an executive councilor who helped lead the fight to expand Medicaid, fought against quote, unquote "extreme attacks on women's health," cast critical votes to fund Planned Parenthood, been a leading voice in the state's response to the opioid epidemic and been an advocate for commuter rail.
Among those not impressed by Pappas' announcement is potential G O P rival State Senator Andy Sanborn of Bedford. In a statement issued yesterday, Sanborn said, quote:
"It comes as no surprise that Hillary Clinton continues to direct the Democratic Party, as her supporter and political-disciple, Chris Pappas, has entered this race. Although he may claim to be running to represent the middle class, his liberal record couldn't be more out of touch with the people of New Hampshire. Just like Hillary Clinton, Chris is all for insider deals to his politically connected supporters, while working for higher taxes, bigger government, and increasing the heavy burden already crushing small business owners."
Sanborn said he had no doubt that Pappas would pick up where incumbent Carol Shea Porter left off as the most liberal member of Congress were he to be elected. Pappas he said is, quote:
"exactly the type of swamp-candidate I am going to Washington to fight."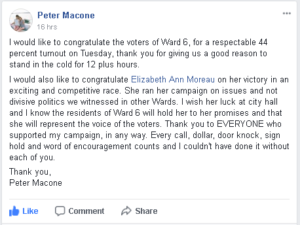 Despite conceding the race and congratulating his opponent in a Facebook post, Ward Six aldermanic candidate Peter Macone has filed for a recount of his race against Alderman Elizabeth Ann Moreau. Moreau, who won by just twenty five votes, received eleven hundred fifty three votes to Macone's eleven hundred twenty eight. There were one hundred ninety eight ballots that registered as blank when fed through the machine.
Because the city is closed for business as a result of Veterans Day today, the deadline for candidates to file a recount request has been pushed to five o'clock on Monday. Ward Two school board member Debra Gagnon Langton is considering a recount of her twenty vote loss to former New Hampshire Democratic Party Executive Director David Scannell, one thousand fifty to one thousand seventy votes. There were over three hundred ballots considered "blank" in the race.
No word from Ward Nine aldermanic candidate Jim Burkush who pulled up twenty four votes short of Alderman Barbara Shaw in Tuesday's election. Ward Three Alderman Patrick Long has also filed for a recount. He lost by just seven votes to Tim Baines, son of the former mayor.
News from our own backyard continues after this.
Was there some organized funny business at the polls in Manchester Ward Eleven on Election Day? Inquiring minds want to know. Girard at Large has received and confirmed reports that multiple van loads of non-English speaking people were brought to the poll. According to sources, a woman with a green clip board adorned with an Obama sticker seemed to be at the center of the activity. Seventy new voters were registered in the ward, which is a lot for that polling place in a city election, and so many of the new registrants needed help registering and voting that poll workers ran out of the forms that are used to request assistance. Sources tell Girard at Large that when asked for their address, some didn't actually know what it was and the only identification many brought was their naturalization paperwork.
Aldermanic candidate Russell Ouellette lost to incumbent Alderman Normand Gamache by just thirty nine votes out of almost eleven hundred cast. You can bet that the Obama clipboard lady wasn't there to help Ouellette win. Too bad state law keeps all that information on the voter affidavit and registration forms secret, or we'd go and take a look at who claimed what in order to vote.
Tomorrow is Veterans Day and today is the day that most people have off to celebrate it. Be sure to check with your local communities to see what services, if any, are still operating today. Be sure to check with your bank, too.
Manchester's Veterans Day Parade steps off from the corner of Elm and North streets tomorrow morning at ten thirty. The procession will stop at eleven to commemorate the signing of the Armistice that brought an end to World War One, where Taps will be played at City Hall. Following the parade, all Marching Units will assemble at Veterans Park for ceremonies.
In recognition of Veterans Day, Governor Christopher Sununu issued a statement that reads as follows. Quote:
"We owe those who answered the call of duty our eternal gratitude. Veterans Day is a special opportunity for all of us to come together and thank those brave Granite Staters that served our state and nation. On behalf of the citizens of New Hampshire, I want thank our Veterans, their families, and those that continue to serve and defend our great nation."
Sununu will deliver remarks at the state Home for Veterans in Tilton today and at the state Cemetery for Veterans tomorrow during commemorative ceremonies.
The Hooksett Recycling and Transfer Station will be closed today and tomorrow for the Veterans Day weekend. Both Friday and Monday's collection routes will be collected on Monday. Officials say to expect delays between the trash and recycling collection and to call 6 6 9 5 1 9 8 if you have any questions.
That's NEWS from our own backyard! Girard at Large hour ___ is next!