The Manchester Fire Department was called to 1 9 7 Wilson Street shortly after five yesterday morning for a building fire.  While the first crews arrived within three minutes of the call, the building was already heavily involved with flames consuming the back porches of the twelve unit building.  Additional alarms were immediately sounded as fire crews searched for people trapped inside at the urging of neighbors.
Firefighters rushed into the building without a line and pulled two victims from the flames, before the extreme heat forced their retreat.  Within minutes, they opened water lines and went back into the building, finding two more victims.  Two victims were declared dead at the scene, two more at nearby Elliot Hospital.
While officials have yet to release the names of the two adults and two children who perished, neighbors have identified the children as ten year old Joshua Harris and his eight year old step brother Jay Michael Smith.  They were popular kids at the Roca Kids Cafe, a neighborhood after school program, and students at the Henry Wilson Elementary School.  School officials had guidance councilors from other elementary schools on site to help children cope with the loss.  The deceased adults are said to be their parents.
The cause of the fire, which went to five alarms, calling in companies from multiple communities that either came to the scene or staffed Manchester fire houses as the entire department battled the blaze, is under investigation.  Because the fire claimed lives, the state Fire Marshal's Office will lead the investigation, which will involve the city's fire and police departments.  Manchester Fire Chief Dan Goonan will be our guest this morning at six forty to discuss the tragedy.
Shock and disbelief are being expressed around Hooksett as word that David Pearl suddenly passed away on Saturday has spread.  While Pearl has long been active in town affairs, he was most recently a member of the Budget Committee, having won a seat as a write in candidate last year.  Prior to that he'd retired the seat he held on the Hooksett School Board, where he was a central figure in the rift with the city of Manchester that led to the termination of the tuition agreement between the two, enabling the development and implementation of Hooksett's current choice model, which offers high school students two anchor school districts to choose from, Manchester and Pinkerton, plus Londonderry, Bow, Pembroke and Goffstown.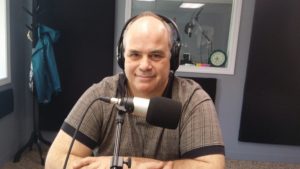 Pearl, who was known for his determined pursuit of the truth and dogged adherence to the facts of a situation, played a critical role in exposing the lies told to the parents of Pembroke Academy, to which he sends and sent his daughters, to cover up the district's failure to notify parents that Dean of Students Rekha Luther was arrested on school grounds while in possession of heroin and anabolic steroids.  While Pearl got Superintendent Patricia Sherman to admit the letter sent to parents contained incorrect information, he had yet to succeed in causing the Pembroke School Board to direct Sherman to correct the misinformation.
All we know about what happened was that, after filming a dance recital on Saturday, he collapsed while packing gear into his vehicle.  By the time he was found, it was too late.  Pearl leaves behind his wife Joanne and three daughters Alissa, Nicole and Christine.  He just turned fifty five in April.  Calling hours are this Saturday from twelve to four at the Lambert Funeral Home on Elm St. in Manchester.  No services are planned.
News from our own backyard continues after this.
Three bills intended to protect children from child abuse became law in New Hampshire yesterday.  The bills were S B 5 3 6, S B 5 3 8 and S B 5 3 9.  District Sixteen Senator David Boutin, Republican from Hooksett, who sponsored all three bills, said the goal was to strengthen protections against child abuse and neglect to ensure children are safe in the care of their parents or guardians.  The bills provides law enforcement with greater access to medical records as part of the court process in child abuse or neglect investigations and also allows children who are in imminent danger to be taken into protective custody.  Said Boutin in a statement released yesterday quote:
"I believe we struck the appropriate balance in ensuring the safety of the child first, but also protecting parent's rights and their privacy."
The city of Manchester is sponsoring a free training for landlords and tenants on the Fair Housing Law.  The training will be held on the fourth floor of the Manchester Resource Center on Friday, June tenth.  Anyone interested in attending may contact The Way Home at 6 2 7 3 4 9 1.
The Candia Police Department had a busy month battling the ferocious, and thanks to us, infamous crime wave that has swamped the little hamlet just east of the big city!  They arrested more than ten people last month on charges ranging from domestic violence to drunk driving and possession of drugs and alcohol.  A few people were taken into protective custody for alcoholism.  Candia's finest also issued one-hundred and sixty motor vehicle warnings and eight motor vehicle summons.
Speaking of traffic violation stats, the Manchester Police Department responded to our Right to Know Request for the results of the D W I checkpoint they ran in April.  The department, whose press releases justify continued sobriety checkpoints on rising incidents of drunk driving, reports they made one hundred fourteen stops during their efforts in April, issued one summons and found no drunk drivers.
That's news from our own backyard, Girard at Large hour ___ is next.