Landslide Lisa!  That's how Manchester Ward Five Republican Lisa Freeman will be known after her recount victory in the race for state rep., yesterday.  Freeman, who won by three votes on election night, saw the official results posted to the Secretary of State's Web site give her a twenty two vote win the day after the election.  Then, later that day, the information posted by the Secretary of State showed her losing by one vote.  After the recount, the final tally was eleven hundred twenty eight to eleven hundred twenty two over Democrat Andrew Gregoire.  Gregoire, however, isn't calling it quits.  He's challenging ten ballots at the Ballot Law Commission.  Observers say it is highly unlikely the B L C will come to a different conclusion about the validity of the votes than did Secretary of State Bill Gardner.
Freeman is the first Republican in memory, if not history, to win a House seat in the heavily Democratic ward.  In addition to a heavy Democratic registration advantage, Freeman had to overcome electioneering activities outside of the polling place where an individual working with new immigrant voters was handing out sample ballots with the circles next to the Democratic candidates all up and down the ballot filled in as they entered the polling place.  Complaints about the electioneering activity were turned away by Ward Moderator Paul Crawford.  Freeman was one of just seven Republicans elected to the House from Manchester, which has thirty three seats.
Just when you thought the right thing was about to be done, you find a settlement that really doesn't make any sense.  Yesterday, we discussed the filing of a lawsuit against Teamsters Local 6 3 3 by Superintendent Earl Metzler, on behalf of the Timberlane Regional and Hampstead school districts.  The union has voted to strike First Student, a bus company that provides transportation services to twenty school districts across the state, over its refusal to allow its drivers to enter the union's pension plan.  Metzler filed suit to block the strike as negotiations between the company and the union dragged on.  Now comes word that Metzler agreed to settle the suit he brought to block a strike in exchange for a forty eight hour notice in advance of any strike date.
No doubt, Metzler, who filed the suit on behalf of the two districts of which he is superintendent without out prior knowledge or approval of either of their school boards, settled the case also without their prior knowledge or approval.  On October twenty seventh, superintendents across the state received a "heads up" letter from Local 6 3 3 advising of the potential work stoppage and urging them to contact First Student and pressure them to agree to the union's demands to avoid it.
News from our backyard continues after this.
New Hampshire Attorney General Joseph Foster, Dover Police Chief Anthony Colarusso, Jr., and Portsmouth Police Chief David Mara, announced the arrest of thirty eight year old Amy Matton of Portsmouth for Acts Prohibited relating to the sale of the controlled drug methadone.  Why should you care?  Well, one of the people she illegally sold methadone to overdosed on it and died.  As a result, she could spend the rest of her life in prison.  Looks like the A G is actually getting serious about prosecuting people whose drug sales lead to overdose deaths for murder.
In the same vein, pardon the pun, the Manchester Police Department is asking for the public's help in locating thirty year old Heather Flattery of Manchester.  Flattery failed to appear in court on the charge of Sale of Controlled Drug (Fentanyl) Death Resulting. There is currently an active arrest warrant for Flattery "with a nationwide extradition."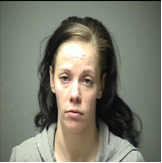 Flattery is white, five foot five, one hundred thirteen pounds with black hair and hazel eyes.  She has a tatoo on her chest, right calf and back and also goes by the name of Heather Kowack.  Her last known address was 51 Pennacook Street in Manchester.  The department said if you see or have seen Flattery, or know her whereabouts, "do not approach."  Notify the Manchester Police Department at 6 6 8 8 7 1 1, or remain anonymous through Manchester Crime Line at 6 2 4 4 0 4 0 or contact the local law enforcement agency in your community if you're outside the city.  We've got pictures of Flattery with this news read, including her tattoos.
The town of Derry has announced that for the Thanksgiving Holiday, the Derry Municipal Center and Recreation Office at Veteran's Hall will closed on the twenty fourth and fifth.  The Derry Transfer Station will be closed on the twenty fourth, but will be open on Friday and Saturday, the twenty fifth and sixth from six A M to three thirty P M.
In Manchester, the school district offices will be closed starting tomorrow, through to Monday.
That's NEWS from our own backyard!  Girard at Large hour ___ is next!