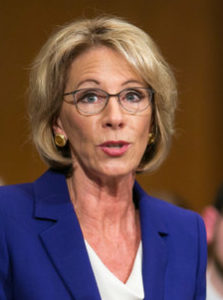 What do you get when a union spends nearly one point six million dollars to defeat your opponent in a campaign for the U S Senate? A toady that will do your bidding upon demand. That's what America Rising Squared charged in a press release sent yesterday, hammering Senator Margaret Wood Hassan over her opposition to Secretary of Education nominee Betsy DeVos. DeVos' nomination is expected to come to a vote on the Senate Floor today.
Republican Senators Lisa Murkowski of Alaska and Susan Collins of Maine have announced they will oppose DeVos, setting up a tie vote, which Vice President Mike Pence will be on hand to break with his vote in favor of her nomination. Democrats, including Hassan, have worked feverishly to convert just one more Republican to their cause of torpedoing the nomination. Advocates of education policy change have worked just as hard to insure the remaining Republicans don't break ranks. If it all goes down as expected, it will be the first time in history a cabinet secretary was confirmed with the Vice President breaking the tie.
Back to the release, A R Squared said quote:
Senator Maggie Hassan's unbridled loyalty to national teacher unions and their opposition to Betsy DeVos comes at a price of $1.5 million spent by NEA Advocacy Fund on her behalf in the 2016 election. While most Senate Democrats have taken large sums of campaign contributions from teacher unions, Sen. Hassan has benefited by their money more than almost all of her senate colleagues
We've linked to the article, which documents the spending on Hassan's behalf from this news read at Girard at Large dot com. According to information on Open Secrets dot org, Hassan received almost twice as much teacher union money as the next largest recipient of teacher union cash.
In issuing his first executive order since taking office, Governor Chris Sununu established a Judicial Selection Commission tasked with examining all potential applicants for judicial nominations and recommending qualified applicants based on experience, good character and temperament. The bipartisan Commission is comprised of experts from across a wide range of professions, including from legal, law enforcement and business. Former Congressman and New Hampshire Supreme Court Justice Chuck Douglas was named chair, and Attorney Jack Sanders will serve as Vice-Chair.
In issuing the statement, Sununu said quote:
Judges are the umpires of our society's contending forces, as they help to make the difference between a society governed by the law of force and one living under the force of law.
He said he took the responsibility of nominating judges seriously and believed it should be done quote "with thoughtful consideration and with substantive input from specialists in a variety of fields."
Douglas was chosen chair because he quote:
brings a wealth of experience to the team with his nearly fifty years as a practicing trial lawyer and more than a decade of service on New Hampshire's bench.
Quote:
When life, liberty and property are at stake in our courtrooms, we must not only have justice, but the appearance and feel that justice was done no matter who won or lost
asserted Douglas, who said he was honored to have been asked to serve.
Sanders was made vice chair because of his service on a previous Judicial Selection Commission, as Vice Chairman of the Judicial Conduct Committee and as Director of the American Judicature Society.
We've provided a list of all the members named by Sununu with this news read at Girard at Large dot com.
By the way, those interested in being a judge should contact the governor's office directly. And, in case you're interested, we've linked to the executive order. Click here to read Executive Order 2017-01.
Governor Sununu's Judicial Selection Commission includes:
Chuck Douglas, Chair
Jack Sanders, Vice Chair
Sheriff Scott Hilliard, Merrimack County Sheriff
Donna Sytek, Former Speaker of the House
Bobbie Hantz, Partner, Sheehan Phinney
Lynn Parker, Executive Director, New Hampshire Legal Assistance
Mike Scala, Executive Director, Coos Economic Development Corp.
Jack Tulley, Nashua Business Owner
Matt Kfoury, President and CEO of Central Paper Products
News from our own backyard continues after this.
The Manchester Board of Mayor and Aldermen will meet at 7 tonight tonight in the Aldermanic Chambers at City Hall. The board will receive a presentation led by Public Health Director Tim Soucy regarding the city's overall response to the opioid epidemic. Mayor Ted Gatsas asked Soucy to compile a report detailing not just the city's actions, but also those of private and not for profit entities.
The board will also review nearly one million dollars in renovations the Fisher Cats plan to do at Fisher Cat Stadium. According to team President Mike Ramshaw, the Cats plan significant improvements to the area at the top of the stadium stairs by the giant Hood milk bottle and to the area outside of the Sam Adams Bar and Grill. This is in addition to the million dollars or so the city is spending to redo the field and sprinkler systems, among other repair work.
The board will also take up the the Board of School Committee's request to be given a budget by March thirty first and is expected to grant final approval to the contract with the Association of Manchester Principals.
The Goffstown School Board conveyed its Cornerstone and Dream Keeper awards at the school district's Deliberative Session over the weekend.
The Cornerstone Award, which recognizes a staff or community member working within the schools who has demonstrated outstanding achievements in support of learning went to Mrs. Valerie Oljey, a guidance counselor at Maple Avenue Elementary School and Mr. Armand Paquin, a custodian at Goffstown High School.
Please view the video recognizing these award winners at: https://youtu.be/s_67X9fVtnQ
The Dream Keeper Award, which recognizes people or organizations that have truly gone the extra mile to make the Goffstown dream of providing a superior education a reality went to Dolores Siik, the district's International Exchange Student Program Coordinator.
Please view the videos recognizing the award winners at: https://www.youtube.com/watch?v=bdgCesiu8XI
We've provided the links to the videos of the award ceremonies with all the details of why the winners won with this news read at Girard at Large dot com. Our congrats to all involved.
That's NEWS from our own backyard! Girard at Large hour ___ is next!