Quote:
On the one hand, the public has a powerful interest in national security and in the ability of an elected president to enact policies. And on the other, the public also has an interest in free flow of travel, in avoiding separation of families, and in freedom from discrimination.
That's just part of what the Ninth Circuit Court of Appeals had to say in rejecting the Trump Administration's emergency request to lift the stay order placed against the temporary travel restrictions for non-resident, non-citizen aliens from seven terror stricken countries, yesterday. The court came down on the side of the states of Washington and Minnesota, which argued quote:
Specifically, the States allege that the teaching and research missions of their universities are harmed by the Executive Order's effect on their faculty and students who are nationals of the seven affected countries. These students and faculty cannot travel for research, academic collaboration, or for personal reasons, and their families abroad cannot visit. Some have been stranded outside the country, unable to return to the universities at all. The schools cannot consider attractive student candidates and cannot hire faculty from the seven affected countries, which they have done in the past.
The Ninth Circuit, which is the most overturned court in the country, in its infinite wisdom, doesn't believe the government needs to immediately reinstate the ban to protect national security, which, by the way, is delegated solely to the President by a 1952 law that has been invoked for the very same purpose by several presidents, including the most recent former occupant of the White House and Jimmy Carter, who also used the law to expel fifty thousand Iranians in the late seventies.
Also yesterday, the federal court for the District of Columbia ruled in favor of a civil antitrust lawsuit to block the proposed merger of Anthem Blue Cross Blue Shield and Cigna. The federal lawsuit was filed in July by the U. S. Department of Justice and the attorneys general of New Hampshire, ten other states and the District of Columbia. Attorney General Joseph Foster said quote:
The Court's decision is a tremendous win for consumers, employers, healthcare providers, and other health insurers who compete in this State. New Hampshire already has too few competitors in the health insurance market. Anthem and Cigna directly compete in important segments of the New Hampshire market, offering different approaches for fostering improved health care at lower costs. Preserving that competition is critical to our citizens, particularly in New Hampshire's public sector where both Anthem and Cigna have established relationships with many public employers and two of the State's municipal risk pools.
The federal antitrust complaint alleged that a combined Anthem – Cigna would substantially lessen competition in the health insurance industry in markets across the country. Antitrust laws, says Foster, are designed to preserve opportunities for business innovation and to encourage companies to develop higher quality products with competitive prices.
News from our own backyard continues after this.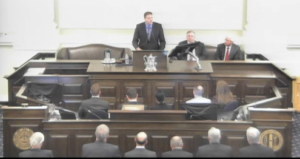 Amidst the biggest blizzard to hit the state in recent years, Governor Christopher Sununu gave his first Budget Address to the Joint Convention of the General Court yesterday. The twelve point two billion dollar plan increases spending by about two percent per year over the next two years. Quoting from the governor's opening lines the budget is designed quote:
First, to create a fiscal and regulatory environment that promises greater job growth, job retention, workforce development and economic opportunity for all.

Second, to both enhance and strengthen opportunities and services for our children and families.

And third, to improve the safety and well-being of New Hampshire's citizenry.
Sununu continued quote:
This is a true balanced budget, without an Income Tax or a Sales Tax and without increasing fees or taxes of any kind.

And we will continue our responsible reductions in business taxes already set to take place.

This true balance is achieved by ensuring that spending in Fiscal 2018 and 2019 is based entirely on revenue for Fiscal Years 2018 and 2019 and does not anticipate nor rely on revenue carried forward as surpluses from prior fiscal years.

Those are one-time revenue sources in those instances that should be strictly used for one-time expenditures and not appropriated for long term programming.

These have been – and will continue to be – some of the guiding principles in developing this budget. It may stand in stark contrast from the actions of previous administrations, but it is responsible, it is practical and it addresses our state's true priorities.
Sununu adds funds to full day kindergarten on a targeted need basis, among other items.
Senate Bill 12, the so called Constitutional Carry Bill, passed the House by an overwhelming vote of 200 to 97. That's the bill that eliminates the requirement that those who legally own firearms get a permit to conceal carry. Advocates for the bill say it makes no sense that the government require legal firearm owners get government permission to conceal carry when they can openly carry the same firearm without a permit. They also argued the requirement had discriminatory origins as it was implemented to prevent immigrants and union members from arming. It's on its way to the governor's desk, where it will be signed.
Candia's Deliberative Session, which was scheduled for last night has been rescheduled for tomorrow morning at nine A M due to the storm.
The Goffstown Police Department announced it has arrested twenty three year old Robert A. Ruggiero of New Boston for the robbery of the Citizens Bank on Church Street yesterday. The bank was robbed late Wednesday afternoon when Ruggiero handed the teller a note, demanding cash. G P D said Ruggiero was located quote "with great help from both our media and community partners." He was charged with one count of Robbery, a Class B Felony and held on $10,000.00 Cash Only Bail.
That's NEWS from our own backyard! Girard at Large hour ___ is next!