The reason why state and federal officials raided a home and two restaurants owned by Manchester Ward Eight Alderman and State Rep. Tom Katsiantonis has come into focus. He owes back taxes and lots of them. According to an article published in this morning's Union Leader, the state placed half a dozen "Notice and Demand for Payment" liens on file against properties owned by Katsiantonis with the Hillsborough County Registrar of Deeds. In total, the state is seeking to recover almost four hundred thirty thousand dollars in unpaid taxes, fees and interest they say have gone unpaid since two thousand twelve. The filings were made on January thirtieth and state investigators say they're looking into whether or not there's criminality involved. We've linked to the article, which is obviously on the front page of today's paper, so you can get the details. It was an interesting read to say the least.
Governor Christopher T. Sununu and Commissioner of Health and Human Services Jeffrey Meyers, announced the submission of an application for funding authorized by the 21st Century Cures Act. Passed by Congress in December, the act makes grant funding available to states fighting opioid abuse. New Hampshire is eligible for more than three point one million dollars in each of the next two years.
The state's application proposes to implement a comprehensive approach that directly targets high-risk populations. It requests funding to:
expand medication assisted treatment in integrated care settings for pregnant and postpartum women;
establish peer recovery support services for middle and high school students and parents with substance use disorders;
create a new re-entry care coordinator with the Department of Corrections to help women re-entering the community from incarceration with access to treatment, recovery and connections to needed services;
provide the opioid overdose reversal medication, Naloxone, to men and women at-risk for overdose who are transitioning from correctional settings into the community;
and fund targeted prevention services for early childhood and school-aged children involved with the Division for Children, Youth and Families, as a result of their parents or caregivers substance use disorder.
In unveiling the application, Sununu said quote:
"The opiate crisis is the most critical public health and safety issue in New Hampshire. Moving forward, our comprehensive strategy must continue to support investments in law enforcement, treatment, recovery, and prevention. New funding directed toward targeted populations will strengthen our efforts to fight this epidemic."
News from our own backyard continues after this.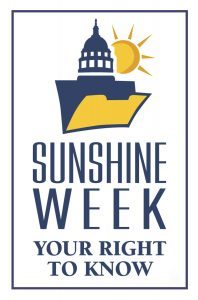 In recognition of Sunshine Week, a national initiative to promote open government, the Nackey S. Loeb School of Communications and New England First Amendment Coalition will present a discussion concerning the key to open state government, the Right to Know Law. "The Right to Know in New Hampshire, in Theory and Practice" will be held at the Loeb School in Manchester at 7 p.m. on March 13th.
The two-part program will include a presentation by David Saad, president of Right to Know New Hampshire, a citizens' group working to improve access to state and local government, and a panel discussion of the law from varying perspectives.
Panelists include:
Lisa M. English – Senior Assistant N H Attorney General
Donna Green – President of the School District Governance Association of New Hampshire, Board Member of Right to Know New Hampshire and that pesky Timberlane Regional School Board member who's battled her district on multiple Right to Know issues for years, including one she took all the way to the N H Supreme Court and won,
Attorney Richard Lehmann, who has represented Green, among others, in Right to Know suits,
Durham Town Administrator Todd Selig, that's Dur-ham for those of you in Wind-ham, and
Trent Spiner – President of the New Hampshire Press Association.
The panel will be moderated by First Amendment attorney Gregory V. Sullivan, a board member of both sponsoring organizations, who represents various media outlets in open government cases.
Admission to the event is free and open to the public. Sunshine Week is March twelfth through the eighteenth. We've got all the links you'll need to get up to speed on all involved with this news read at Girard at Large dot com.
New Hampshire Senate Bill sixty six is on its way to the House after being passed last week. The bill adds the term "unborn child" to the definition of "another" in cases of first and second degree murder, manslaughter or negligent homicide, among other offenses.
Bill sponsor, District Nineteen Senator Regina Birdsell, Republican from Hampstead. issued a statement saying if the bill passed, New Hampshire would become the thirty ninth state in the nation to provide this protection to mothers and their unborn children. Said Birdsell, quote:
"We heard a number of very moving and tragic cases where a mother lost her child due to an unexpected incident out of her control and was unable to have the closure of a death certificate or even allow prosecutors to charge criminals with the death of an unborn child, providing justice to families."
She urged the House to support the bill, quote:
"so we provide justice for those who cannot protect themselves."
The Senate also approved S B 200. Cosponsored by District Fifteen Senator Dan Feltes, Democrat from Concord, and District Fourteen Senator Sharon Carson, Republican from Londonderry, the bill "requires appointment of counsel for an indigent defendant in cases involving nonpayment of an assessment or nonperformance of community service." In other words, if someone gets dragged to court for failure to pay a debt or perform court ordered community service, they get a lawyer on the taxpayer's dime. Carson and Feltes issued a statement after senate passage saying quote:
"We are pleased with the Senate's passage of SB 200 which makes reforms addressing our debtors prison problem, providing important safeguards and also counsel which ensures no Granite Stater is thrown in jail simply for an inability to pay a debt."
That's NEWS from our own backyard! Girard at Large hour ___ is next!