MANCHESTER, NH January 7, 2022–Students enrolled in the Manchester School District are both failing and missing classes in record numbers according to data obtained on December 8, 2021 by Girard at Large. In reply to a Right to Know Request, Superintendent Dr. John Goldhardt provided data comparing the number of "Fs" given in the 2019-2020 school year to the 2020-2021 school year per school.
The numbers are staggering.
Students receiving at least one F in the city's four high schools jumped from 1,204 in the 2020 school year to 1,643 in 2021, an increase of 36.5%. Alarming as that is, an significantly larger spike in failing grades was seen in the city's middle schools. In 2020, the number of students receiving at least one failing grade was 68. In2021,there were a staggering 971, an increase of 1,328%. The school by school breakdown is below.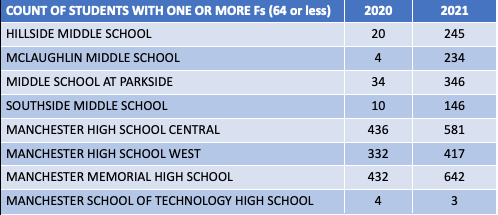 Meanwhile, attendance rates fell by 7% districtwide, to 82.58%. High Schools led the way down, with attendance falling by 9% to 78.12%. Elementary schools were next, declining by 7.4% to 88.48%. Middle school attendance saw the smallest decrease at 3.1%, falling to 88.81%. That number was unexpected given the gigantic spike in the number of students receiving at least one F in the middle schools during the school year.
Click here for grade by grade attendance rates in each school.