The state's Commission to Study Narcan concluded its work on Monday with unanimous support for the interim report.  Senator Kevin Avard (R-Nashua), who chaired the committee, issued a statement saying he was confident in the commission's work and fully supported its recommendations, which he says were developed to reduce the number of heroin overdose deaths.  Quote:
This Commission heard testimony from recovering heroin addicts as well as the Department of Health and Human Services, law enforcement, paramedics and family members of drug users which helped to shape and reinforce the interim recommendations. The Commission agreed that there is a need to expand the availability of Narcan kits, offer additional training on how to use Narcan and make information available that encourages drug users and others who may be involved to seek help from first responders in the event of an overdose.
The Commission advised against the formation of a registry for those in possession of Narcan or mandatory reporting of its use which they believed could deter opiate users from obtaining the live-saving drug.
In May, the Auburn Board of Selectmen hired Municipal Resources, Inc. of Meredith to conduct an operational review and risk assessment on the Auburn Fire Department.  The review has been completed and the town has received the written report with recommendations for future improvements.  The M R I Review Team will publicly present its report to the board at its meeting on November 7th, which is scheduled for seven o'clock at Town Hall.  Copies of the report are available at Town Hall or by clicking the link we've included with this newscast at Girard at Large dot com.
The town of Derry is looking for ballot clerks for the November 8th election.  If interested, please call the Town Clerk's Office at 4 3 2 6 1 0 5 or email Town Clerk Dan Healey at daniel healey @ derry n h dot org.  Paid training will be provided today at 6:00 p m. To apply, one must be a registered voter in Derry.
Rumor has it that Manchester City Clerk Matthew Normand is also in need of poll workers, but they've not notified this media outlet of that need.  But, in the case our sources are correct, the City Clerk's Office number is 6 2 4 6 4 5 5.  City Hall will be closed on Tuesday because of the election, by the way.
News from our own backyard continues after this.
Teamsters Local 6 3 3 seems to be pressuring local school districts that use First Student to transport its special education students to their schools.  In a letter sent to several superintendents in the state, Local 6 3 3 Secretary Treasurer David Laughton states the company has quote
refused to agree to participate in the New England Teamsters and Trucking Industry Pension Plan on behalf of its employees…despite the fact that the First Student drivers have overwhelmingly expressed their desire to participate in the Plan.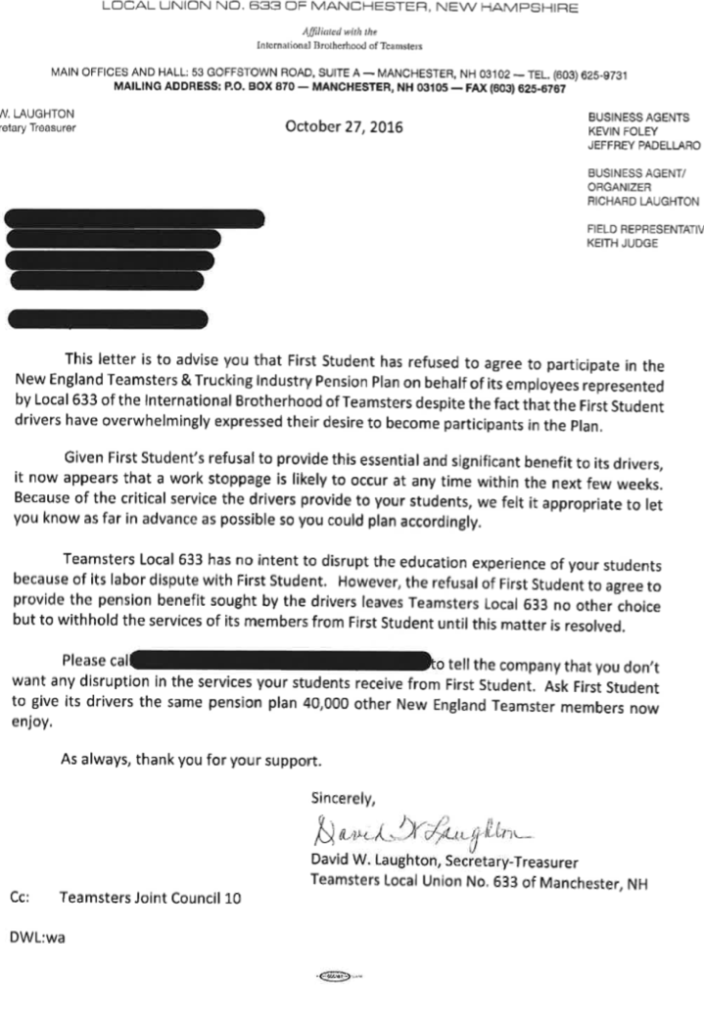 In the letter, Laughton goes on to say that, as a result, quote
it now appears that a work stoppage is likely to occur at any time within the next few weeks.  Because of the critical service the drivers provide to your students, we felt it appropriate to let you know as far in advance as possible so you could plan accordingly.
Lest you think he's just being nice in giving the district's a heads up, he goes on to say that while Local 6 3 3 has no intent to disrupt education for the students transported by the company quote:
the refusal of First Student to agree to provide the pension benefit sought by the drivers leaves…no other choice but to withhold services of its members from First Student until this matter is resolved.
Laughton then urges the superintendents to call First Student quote
to tell the company that you don't want any disruption in the services your students receive…Ask First Student to give its drivers the same pension plan 40,000 other New England teamster members now enjoy…as always, thank you for your support.
Yes, class, we will discuss.
Oh, speaking of inappropriate political pressure, did you catch the latest from the WikiLeaks release of the Podesta emails?  John Podesta, of course, is Hillary Clinton's campaign chairman.  Seems there really was collusion between the Clinton campaign and the State Department regarding the discovery of Hillary's private email server.  Looks like the state department not only gave them a heads up before providing its official response, it changed what it said based on feedback from the campaign.  How nice.
That' s news from our own backyard!  Girard at Large hour ___ is next