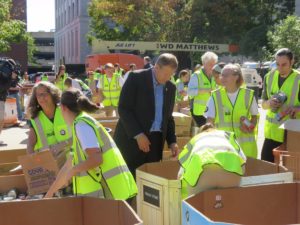 Governor Chris Sununu and New Hampshire Homeland Security Director Perry Plummer will officially send-off the donations collected during the governor's Puerto Rico Aid Drive, which was held on October third and fourth. You might recall that Sununu encouraged Granite Staters to leave food on the State House Lawn during those two days. Well, a lot of folks left a lot of food. Sununu and Plummer will be surrounded by nearly five hundred pallets of goods, FEMA trucks, and state employees at the Department of Transportation Warehouse on Stickney Ave. There will, of course, be some speechifying before the stores are sent on their way to Puerto Rico, where they are expected to arrive on November second.
Speaking of Sununu, two hours after our Ins and Outs of Immigration anchor Eva Castillo Turgeon blabbed about his letter to President Donald Trump on behalf of sixty nine Indonesians, Sununu's office released the letter. In asking Trump to rescind their deportation order, Sununu wrote, and I quote:
"People such as these 69 individuals who made an honest attempt to navigate the legal process, who have a valid legal claim for asylum and have come forward to work with authorities should not be on the front line for deportation."
Sununu also made an issue of their coming here legally and of being Christians, arguing that they left for reasons of religious persecution and would be persecuted if they returned. We've linked to Sununu's letter from this news read at Girard at Large dot com.
Sununu was in the news for another reason yesterday, too. He's coming to the Queen City to campaign door to door with Mayor Ted Gatsas and others on Saturday. Gatsas made the announcement yesterday, noting Sununu's meteoric popularity and praising him as quote "a tireless ally and advocate for Manchester." Gatsas said he looked forward to campaigning with Sununu who he said has quote "always put politics aside and the people first."
Sununu recently released one hundred fifty thousand dollars in support of the city's Safe Station program with promises of more funding to help the city battle the opioid epidemic after meeting with Gatsas. Looks like the hard feelings between the two from last year's gubernatorial campaign have been put aside.
The Manchester Board of School Committee met last night and it was short, but interesting. Without comment, the board approved changes to the now infamous cupcake policy that will allow schools to have up to one bake sake with non-compliant foods per month. The policy conforms to new guidelines published by the state. Ward Ten Committeeman John Avard was opposed.
The board was also told that eighteen of the twenty two schools have been reviewed by the consultant hired to audit the buildings as part of the effort to redistrict. A report is expected in December, according to Superintendent Dr. Bolgen Vargas.
Vargas also told the board he was continuing to work on a reorganization of the district office. In doing so, he shared his desire that the board recognize a chain of command governing its interactions with him and the staff saying that a reorganization will be of little benefit if it doesn't. An example of his concerns was demonstrated when, after Vargas answered a question asked by Ward Six Committeeman Dan Bergeron, Bergeron said he wanted to hear what the H R director had to say about the matter. It's not the first time Bergeron has asked subordinates of the superintendent for their input after getting an answer he didn't like from Vargas.
The marquis moment of the night came when the board approved a request by Ward Eleven Committeewoman Kate Desrochers to investigate at-Large board member Rich Girard because he recorded a non-public session he was asked to take minutes of as the clerk. Voting with Desrochers was:
at-Large member Nancy Tessier, who complained that an Op Ed Girard published in the Union Leader had embarrassed her,
Avard, who said the board needed to put this personal stuff behind it and that he would vote against the investigation just like he voted against pursuing Tessier,

Ward One's Sarah Ambrogi, who said it was only fair because Tessier had been investigated, and

Ward Twelve's Connie Van Houten, Bergron and Ward Four's Leslie Want, all of whom uncharacteristically said nothing.
Ward Eight's Erika Connors abstained, despite saying she didn't support spending money on lawyers when kids needed things.
Gatsas also abstained, though he chided board members for their behavior.
Citing the charter, Girard, who simply recounted what he did and why, abstained on the vote. Ward three's Mary Geoges was absent and did not vote.
News from our own backyard continues after this.
This Saturday, October 28th, from 10:00 to 2, the Manchester Police Department will offer free shredding services at its headquarters on Valley Street in conjunction with the Drug Take Back Day. And, for those of you who like to oooo and aahh over machinery, the will also have police vehicles, fire apparatus and an ambulance on display. In addition to the headquarters, unwanted prescription drugs may be dropped off at the Elliot at River's Edge and the National Guard Armory.
The Manchester Fire Department's not only putting a truck on display to add to the excitement of Drug Take Back Day, it will dispatch personnel to the homes of disabled and infirm residents for whom going to a drug drop off site would be difficult, if not impossible. If you need that help to remove your unwanted or expired prescriptions from your home, call Melissa at 6 6 9 2 2 5 6 extension 3 8 2 4 before four in the afternoon on Friday, the twenty seventh.
The Police Department in Goffstown has also announced it will accept unwanted prescriptions on Saturday from ten to two. While it doesn't look like they'll have fire trucks, ambulances, cruisers and other apparatus on display or free shredding on site, they'll still take your unused and unwanted drugs. They say flushing them or tossing them in the trash pose potential safety and health hazards. Goffstown residents may call Detective Jason Ouellette at 4 9 7 4 8 5 8 with any questions.
The Derry Fire Department is sponsoring a blood drive which will be held on Friday, November 17th, from 2 to 7 at Upper Village Hall on 5 2 East Derry Road. Pizza will be served To schedule an appointment, please call 1 8 0 0 RED CROSS or visit red cross blood dot org and enter sponsor code DERRY FIRE.
Milford Fire Chief John Kelly has banned outdoor burning in town until further notice. He said dry conditions were to blame. The burning ban includes seasonal permits as well as permits obtained online from the state.
The town of Amherst has announced the clerk's office will close at four o'clock on October thirty first for Halloween. Not sure if this is a trick or a treat, but the office will reopen for business as usual on November first.
That's NEWS from our own backyard! Girard at Large hour ___ is next!